NAH_Remote: Coexistence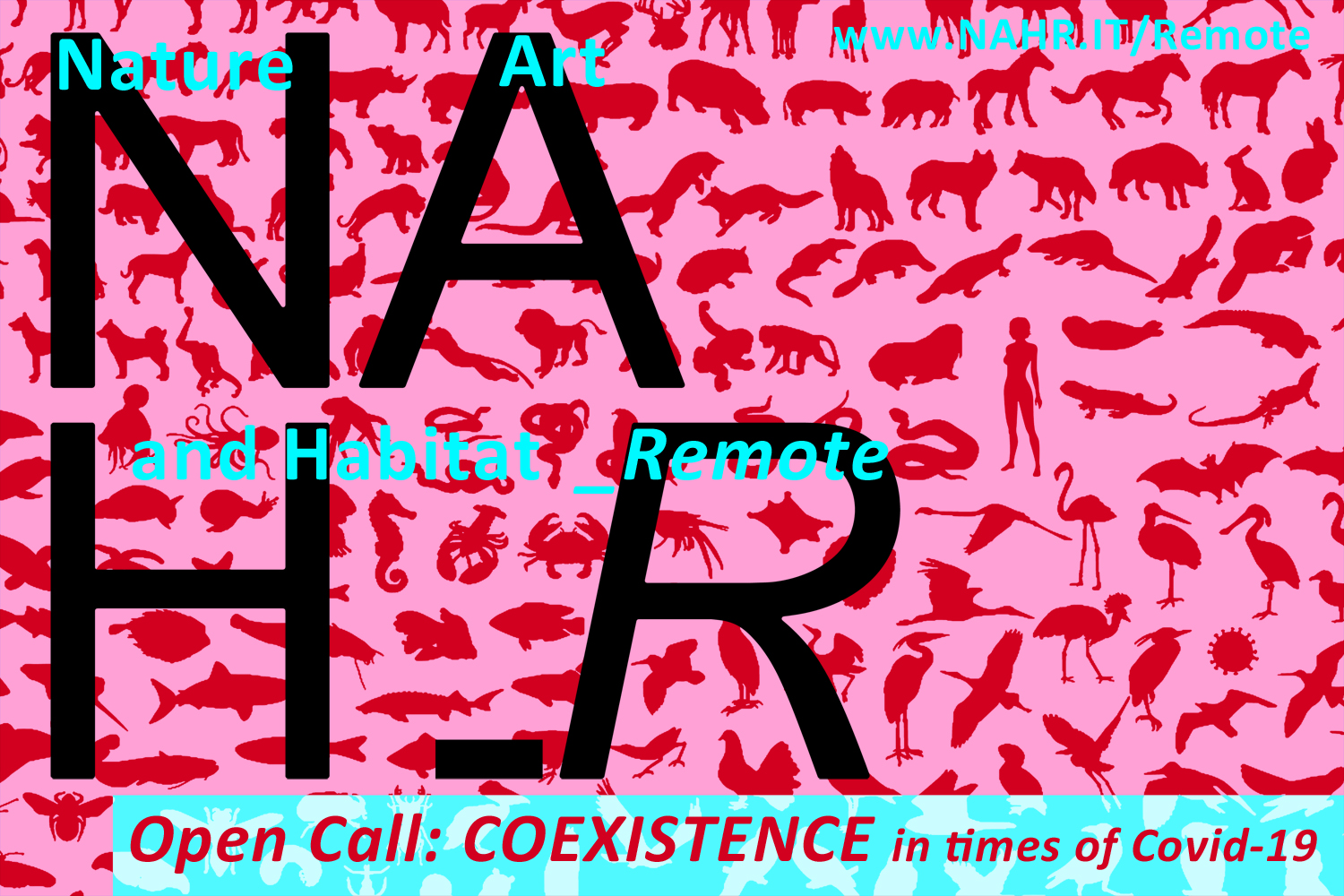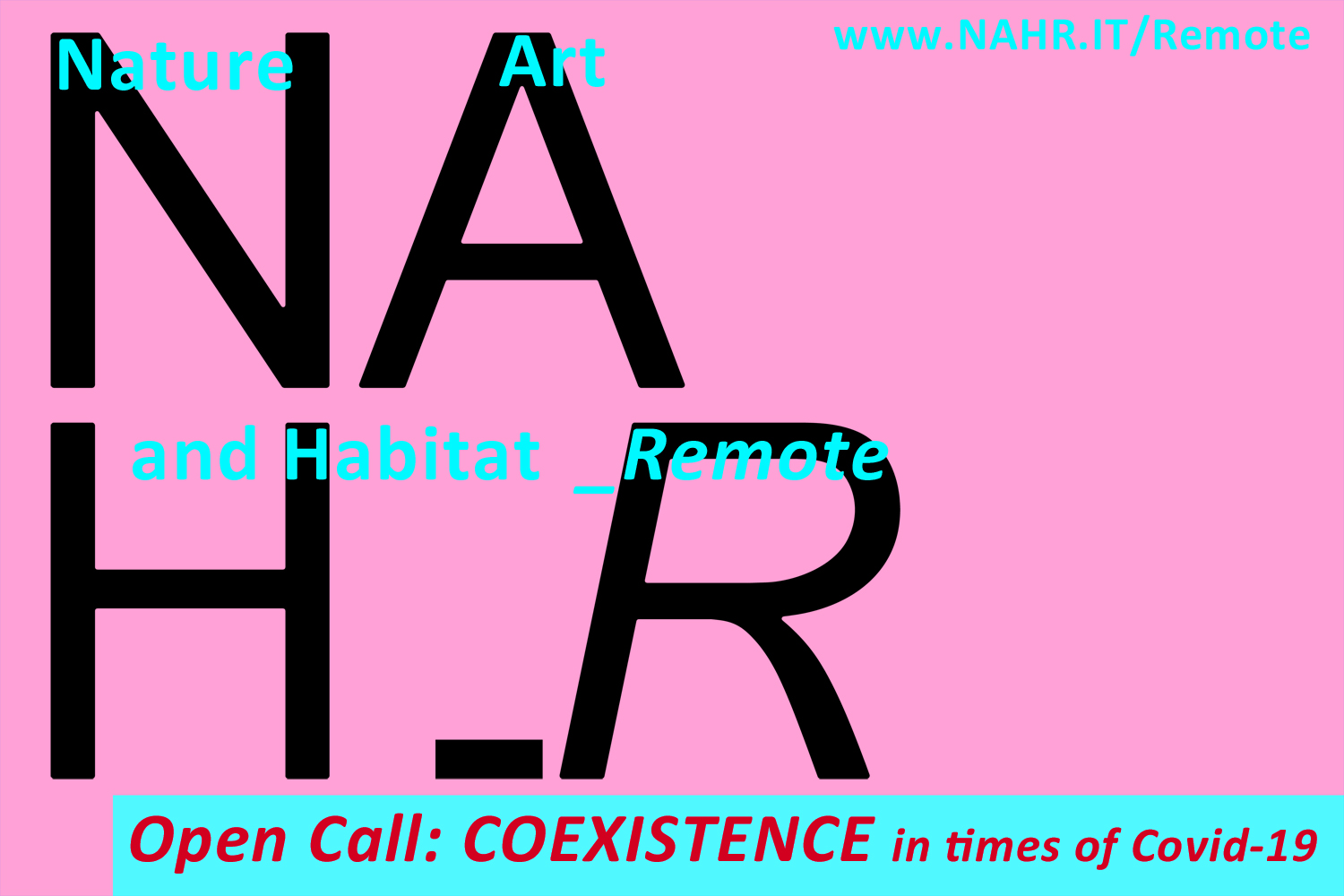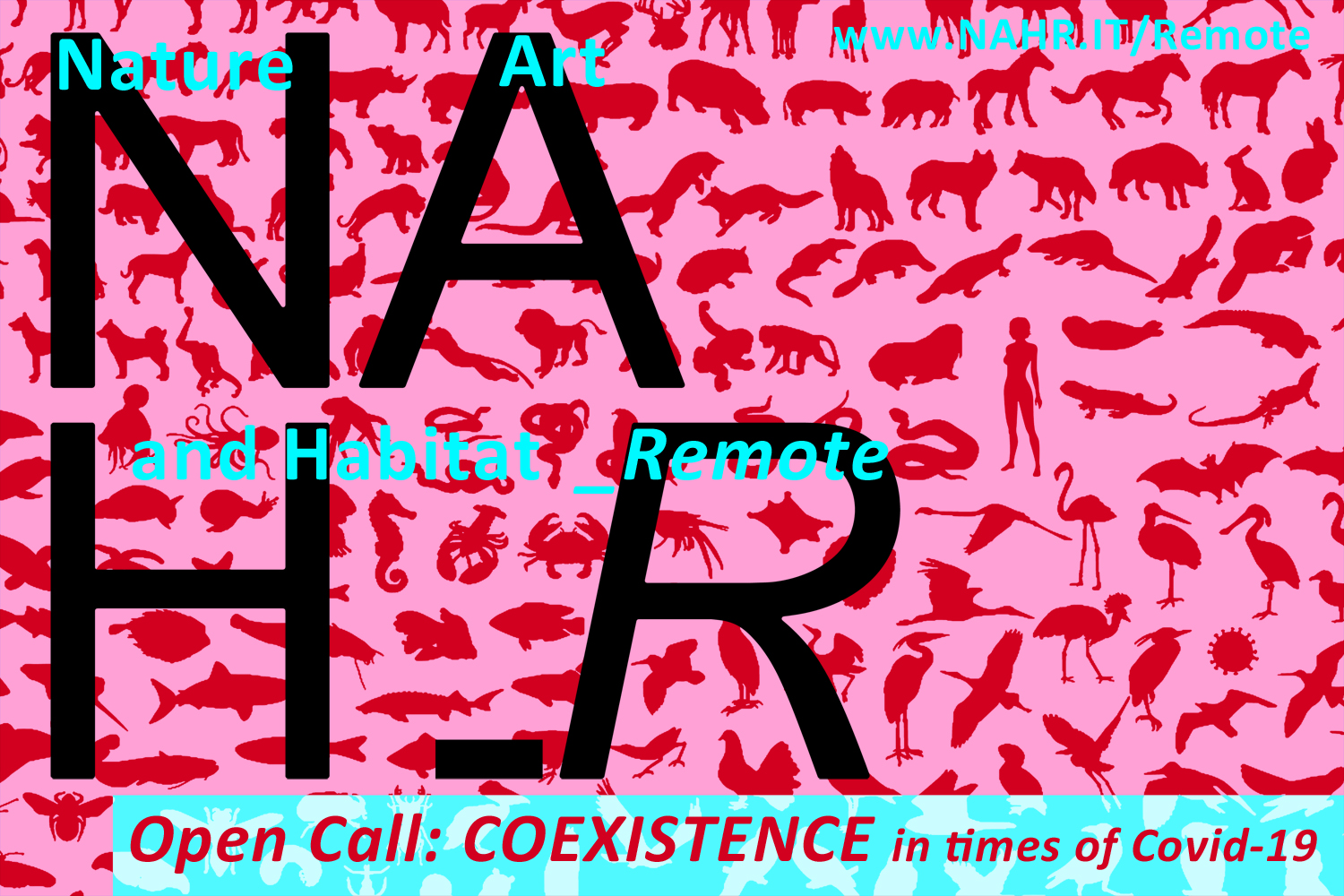 NAH_Remote


CALL FOR REFLECTIONS

COEXISTENCE in Times of COVID-19



ANIMALS: Interdependence Between Species
Work will be curated and posted as it is received
The NAHR 2020 summer residency entitled Animals: Interdependence Between Species has been postponed due to the COVID-19 pandemic. At this moment, NAHR invites you to share reflections on "coexistence," "resilience", and the evolution of environmental thinking in recent weeks, in the context of NAHR's underlying philosophy and the world-wide pandemic. Discussing interdependence between species and coexistence is more urgent than ever. This means confronting the issue of a different and more balanced relationship between human and non-human animals and imagining new choices that lead to tangible collective and individual actions.

NAHR will be curating multidisciplinary REFLECTIONS exploring how species meet, intersect, and co-create ecosystems in this post-human, post-anthropocentric era, as the world grapples with COVID-19. The reflections should focus on the relationships and intersections of science with design, architecture, landscape, philosophy, visual arts, and performing arts.

The reflections could be a short text, a video, a sound piece, or a visual artifact you would like to share with the NAHR community.

key terms: COEXISTENCE, BIODIVERSITY, CO-EVOLUTION, CLIMATE CHANGE, SUSTAINABILITY, RESILIENCE, OTHERNESS, AWARENESS, POSTHUMANISM, BIOMIMICRY.
Please see also this text, to draw from:
Animals: Interdependence Between Species
How to participate:
The work will be posted on the

NAHR Web site

,
the

NAHR Facebook page

and may be shared as part of other NAHR activities.

All rights will remain with the artist. Please watermark your file when submitting it.

NAHR reserves the rights to not publish material that may be considered offensive or ethically inappropriate. All submission will be curated by NAHR.
EMAIL your REFLECTIONS to: info@nahr.it
For all submissions, please include:
1. Your Name, Location, & NAHR affiliation, if applicable.

2. A caption or brief description of the work, not to exceed 15 words.
Please eplicitly address the way in which your work connects to the call.

3. The URL for your website if you would like us to link to it.

4. File naming: youname_lastname_titleartpiece

Formatting Instructions:
If your work is:
Text: Please attach either a .TXT or .PDF file

Image (photograph, drawing, painting, 2D or 3D art piece):

Please attach 1 .JPG or .PNG file, 1280 pixels in its longest dimension.

Video: Please upload it to YouTube or Vimeo. Make sure that it is publicly accessible and embedable. Send the URL.

Sound: Please upload it to SoundCloud. Make sure that it is publicly accessible and embedable. Send the URL.

DONATIONS:
We feel it is our responsibility to support institutions addressing the pandemic. On the page where the work is posted, NAHR will list a selection of institutions anyone can donate to to support hospitals hard-hit by COVID-19 and researchers working to fight it.
We anticipate you would agree with what we say at NAHR:
LIFE FIRST. LET'S BE RESPONSIBLE:
TO OURSELVES, THE OTHERS AND,
EARTH

NAH_Remoto


BANDO di Riflessioni su:

COESISTENZA al tempo di COVID-19



ANIMALI: Interdependenza tra Specie
Le riflessioni verranno curate e pubblicate man mano verranno ricevute.
La residenza NAHR 2020
Animali: Interdependenza tra Specie
ha dovuto essere posticipata a causa della pandemia di COVID-19.
Nel contesto della sua filosofia di fondo, NAHR desidera veicolare una serie di
riflessioni
sui temi della coesistenza e della resilienza e sulle declinazioni del pensiero ambientalista sviluppatesi nelle recenti settimane di pandemia globale.
Per chi desideri affrontare le questioni legate a una diversa e più equilibrata relazione tra animali umani e non umani, e immaginare scelte nuove che conducano ad azioni collettive e individuali tangibili, discutere di coesistenza e di interdipendenza tra specie è più che mai urgente.
NAHR curerà le
RIFLESSIONI
che perverranno esplorando il modo in cui le specie si incontrano, si intersecano e co-creano ecosistemi in questa era post-umana, post-antropocentrica, mentre il mondo è alle prese con il COVID-19. Le riflessioni si svolgeranno all'intersezione tra scienza design, architettura, paesaggio, filosofia, arti visive e le arti dello spettacolo.
Le riflessioni possono prendere forma in
breve testo, di video, di brano sonoro o di un artefatto visivo
che si desidera condividere con la comunità di NAHR.
Termini chiave: COESISTENZA, BIODIVERSITÀ, CO-EVOLUZIONE, CAMBIAMENTI CLIMATICI, SOSTENIBILITÀ, RESILIENZA, ALTRO, AWARENESS, POSTUMANO, BIOMIMETICA.
Per approfondimenti:
Animali: Interdependenza tra specie
COME PARTECIPARE:
Il lavoro sarà pubblicato sul
sito web di NAHR
, sulla pagina Facebook e potrebbe essere condiviso nell'ambito di altre attività NAHR.
Tutti i diritti rimarranno all'artista/autore.
Firmare il file al momento dell'invio.
NAHR si riserva il diritto di non pubblicare materiale che può essere considerato offensivo o eticamente inappropriato. Tutte le presentazioni saranno a cura di NAHR.
Invia le tue RIFLESSIONI a:
info@nahr.it
Si prega di includere in tutte le presentazioni:
1.
Nome, Luogo di residenza,
affiliazione NAHR, se applicabile
2. Una didascalia o una breve descrizione del lavoro, che non superi le 15 parole. Per cortesia eplicitare come l'opera si colleghi alla call.
3. L'URL del proprio sito se si desidera venga pubblicato
4.
Nome del file:
tuonome_tuocognome_titololavoro
Istruzioni per la formattazione:
Testo:
formato TXT o PDF
Immagine
(fotografia, disegno, pittura, opera 2D o 3D):
DIMENSIONI:
1280 pixel dimensione massima
, formato JPG o PNG.
Video:
caricarlo su YouTube o Vimeo. Assicurarsi che sia accessibile al pubblico e integrabile. Inviare l'URL.
Suono:
caricarlo su SoundCloud. Assicurarsi che sia accessibile al pubblico e integrabile. Inviare l'URL.
DONAZIONI:
Riteniamo che sia nostra responsabilità sostenere le istituzioni che affrontano la pandemia. Nella pagina in cui sono pubblicati gli esiti di questo invito, NAHR elencherà una selezione di istituzioni alle quali è possibile donare per sostenere gli ospedali colpiti duramente da COVID-19 e i ricercatori che lavorano per combatterlo.
Sarete d'accordo con ciò che NAHR sostiene:
PRIMA LA VITA. SIAMO RESPONSABILI: PER NOI STESSI, PER GLI ALTRI, PER LA TERRA