Sonia Arienta
Italy

Grass voids (Dramatic path in four Acts/Actions, around the concept of soil consumption)


The main aims of the project "Grass voids" are to stimulate questions about soil consumption and to point out the contradictions about this problem in a dialectic way. Four Acts/Actions compose this path ("Where are the goats?", "Cheques exchanges", "What is underneath there?", Public Puzzle") – with deconstructive and constructive phases – grounded in the interaction with the public and the inhabitants' active contributions. The concept of soil here has to be considered both literally and metaphorically.
Sonia Arienta, PhD in Arts du Spectacle (Grenoble) and a Master at Fine Arts Academy of Brera (Milan), is a playwright (shortlisted for "Premio Riccione", 2005 with "Pareti domestiche (free climbing"), essayist (she published four books, until now, and scientific articles), and director. Her research concerns the dramaturgy of spaces, with the support of different technical means (actions, video, drawings, pictures, installations, texts). She also writes the blog
www.drammaturgieurbane.com
She lives in Milan.
Vuoti d'erba (Percorso drammatico in quattro Atti/Azioni attorno al consumo del suolo)


Stimolare domande riguardanti il consumo del suolo e fare emergere in modo dialettico le contraddizioni con le quali ci rapportiamo rispetto a questa problematica sono gli elementi portanti del progetto "Vuoti d'erba". Il percorso si compone di quattro Atti-Azioni ("Dove sono le capre?", "Scambio di Assegni", "Cosa c'è sotto?", "Puzzle pubblico") – corrispondenti a fasi di decostruzione e ricostruzione – basati sull'interazione con il pubblico e sul contributo attivo degli abitanti del luogo. Il concetto di suolo è considerato sia in senso letterale, sia metaforico.
Sonia Arienta, PhD in Arts du Spectacle (Grenoble) e diplomata all'Accademia di Brera (Milano), è autrice teatrale (finalista Premio Riccione 2005 con "Pareti domestiche (free climbing)"), saggista (ha pubblicato finora quattro libri, numerosi articoli su riviste e raccolte), regista. Si occupa di drammaturgia degli spazi con l'aiuto di tecniche diverse (azioni, video, disegni, foto, installazioni acustiche, questionari, testi) e cura il blog
www.drammaturgieurbane.com
. Vive a Milano.
Simon Ellis
New Zealand / UK

Children of the soil

Do you remember that line from the song Hotel California: "You can check-out any time you like, but you can never leave"? Choreography feels a bit like this to me. Whatever I do or make ends up marked by a choreographic way of thinking or being in the world. So, if one's practice is more or less defined by the body in motion, how then to approach soil? After all, we don't call soil a body, and it seems not to move on its own. Soil is, however, subjected to gravity just like anything else, including human beings. Gravity pulls. We are all always and forever being drawn into the ground. I think of this small ritual-performance as a reminder that each of us is always becoming earth and soil for our human – and other-than-human – ancestors. This inexorable descent into soil is a precious gift from our bodies.
Simon Ellis is a choreographer and filmmaker. He was born in Aotearoa/New Zealand, but now lives in London. He thinks about how humans might value things that are not easily commodified, and likes to imagine a world filled with people who are sensitive to their bodies, and the bodies of others.
Site: www.skellis.net



Figli del suolo

Ti ricordi quella frase di "Hotel California": "Puoi andartene quando vuoi, ma non puoi lasciare mai"? La coreografia è un po' questo per me. Qualunque cosa io faccia finisce che resta segnata da un modo coreografico di essere nel mondo. Quindi, se la mia pratica è definita dal corpo in movimento, come avvicinarsi al suolo? Non chiamiamo il suolo corpo ed esso non si muove da solo. Il suolo è comunque sottoposto a gravità come qualsiasi altra cosa, compresi gli esseri umani. La gravità attira verso il basso. Siamo tutti sempre e per sempre trascinati verso il terreno. Penso a questo piccolo rituale/spettacolo come a ricordare che ognuno di noi diventa terra e suolo per i nostri antenati umani e non umani. Questa discesa inesorabile nel suolo è un regalo prezioso che viene dai nostri corpi.

Simon Ellis è un coreografo e regista. È nato in Aotearoa/Nuova Zelanda, ma ora vive a Londra. Pensa a come gli esseri umani potrebbero valutare cose che non sono facilmente mercificabili, e gli piace immaginare un mondo pieno di persone sensibili ai propri corpi e ai corpi degli altri.




Titta Cosetta Raccagni and Barbara Stimoli
Italy

homo___humus
they___compost
small exercises for becoming-with


Let us start from the Latin etymology of homo as humus: living matter that comes from the soil and returns to the soil. From there, how might we extend this etymology to resist nature-culture and male-female binaries? Homo would become they, human and non-human; and humus would become compost, a multi-species becoming-with. At first, we propose a study of simple perception exercises, both somatic and visual. Then we shift the center of gravity and the anthropocentric point of view towards the ground: vertical, horizontal, macro and micro. Breathing.
Titta C. Raccagni / Barbara Stimoli aka ultimabaret, filmmaker video artist and director, dancer, choreographer and performer: the two different backgrounds and multiple languages, the eclecticism and the experience of activism and political investigation are mixed in their productions. Since 2018 they have mainly dedicated themselves to Pleasure rocks that plays to re-define pleasure in a multispecies relationship.
IG: @ultimabaret
Site: www.pornopoetica.org



homo___humus
corpi___compost
piccoli esercizi per con-divenire

Proviamo a ripartire dall'etimologia latina di homo come humus, materia vivente che viene dal suolo e che al suolo ritorna. Come possiamo andare oltre, in una prospettiva di superamento dei binarismi natura-cultura, maschile-femminile? Homo diventa corpi, umani e non, l'humus diventa compost, un con-divenire multispecie. Proponiamo un primo studio di semplici esercizi di percezione, sia somatici che visivi, per spostare il baricentro e il punto di vista antropocentrico verso il suolo.
Verticale-orizzontale, macro e micro. Respiro.

Titta C. Raccagni / Barbara Stimoli aka ultimabaret, documentarista, filmmaker e regista, danzatrice, coreografa e performer: i due diversi background e i molteplici linguaggi, l'approccio transdisciplinare, l'esperienza di attivismo e indagine politica caratterizzano le loro produzioni. Dal 2018 si dedicano principalmente alla ricerca Pleasure rocks che gioca a risignificare il piacere in un'ottica di relazione multispecie.



Giuseppe Mongiello
Italy
Mantic exercises

Mantic exercises are forms of intuitive knowledge of the landscape, fields where naivety tells us deep things: interpretation of signs for cultivation of practices not functional to cultivation practices, in three moments: When the hours are the winds (geomantic orientation tool, timepieces: chronological and atmospheric); The straight furrow (taken from an agricultural propitiatory practice, combines, in a metaphorical furrow, the mountain of signs to a place of gathering); Terracotta of the auspicious - worked clay for shared objects, restitution to the earth: reverse interpretation on Disorientation maps, proposal from Riccardo Arena for autoprogettazione.com/portfolio/riccardo-arena Giuseppe Mongiello (born Vallo della Lucania, 1981.) Live and work from Cilento and Milan.
Searches in atmosphere and landscape for that which exceeds the factuality of reality, what is supposedly latent in it, inscribed in the reverse that manifests itself, to assimilate it as bodily-affective knowledge.
g.mongiello81@gmail.com



Esercizi di Mantica

Gli Esercizi di Mantica sono forme di conoscenza intuitive della terra, campi dove l'ingenuità ci dice cose profonde: interpretazione di segni per coltivazioni di pratiche non funzionali alle pratiche di coltivazione, in tre momenti: Quando le ore sono i venti (strumento di orientamento geomantico, segnatempi: insieme cronologici e atmosferici); La tiratura del solco dritto (presa da una pratica propiziatoria agricola, unisce, con un solco metaforico, il monte dei segni ad un luogo di raccolta); Terracotta dell'augurio - argilla modellata per contenere oggetti condivisi, e successiva restituzione alla terra: interpretazione svolta al contrario di Mappe del disorientamento, propostada Riccardo Arena per autoprogettazione.com/portfolio/riccardo-arena.

Giuseppe Mongiello (Nato a Vallo della Lucania, 1981.) Vive e lavora tra il Cilento e Milano. Ricerca nell'atmosfera e nel paesaggio ciò che eccede la fattualità del reale, quello che vi si suppone latente, inscritto nel rovescio che si manifesta, per assimilarlo come un sapere corporeo-affettivo.
Danielle Stevenson
USA

Seeing fungi : our underground benefactors

My project investigates the soil microbiome with a focus on the mycorrhizal fungi which enable some of the critical functions of soils: supporting plant growth, sequestering carbon, building healthy soils and supporting biodiversity. Mycorrhizal fungi live in symbiotic relationships with plants through weaving their mycelial webs through plant roots in vast underground networks which we typically cannot see, and as such, may not understand or value. Through a process of collecting plant-root samples from different areas of the valley which are more and less impacted by human activity, and staining the roots with a dye that highlights only fungal materials, these symbiotic mycorrhizal relationships present (or not) will be revealed. The outcome of this research is a series of photographs of these relationships that comprise the underground ecosystem within the Taleggio valley, and a series of short videos sharing my process so that others may learn to 'see' these underground relationships and document them where they live.

Danielle Stevenson is a multidisciplinary environmental scientist whose practice centers around restoring healthy soil as a key part of environmental action. Currently a 4th year PhD candidate in Environmental Toxicology in the Soil Biogeochemistry Group at University of California Riverside, Danielle studies applications for fungi in remediation of polluted soils. She is also an applied mycologist and runs DIY Fungi and the Healing City Soils project.
IG: diyfungi and danielle.stevenson7
Site: diyfungi.blog and danielle-stevenson.com




Vedere i funghi: i nostri benefattori sotterranei

Il mio progetto studia il microbioma del suolo con particolare attenzione ai funghi micorrizici che abilitano alcune delle funzioni critiche dei suoli: sostenere la crescita delle piante, sequestrare il carbonio, costruire suoli sani e sostenere la biodiversità. I funghi micorrizici vivono in relazioni simbiotiche con le piante intrecciando le loro tele miceliali attraverso le radici delle piante in vaste reti sotterranee che in genere non possiamo vedere e, come tali, potrebbero non comprendere o valutare. Attraverso un processo di raccolta di campioni di piante-radice da diverse aree della valle che sono sempre meno interessate dall'attività umana, e colorando le radici con un colorante che evidenzia solo i materiali fungini, verranno rivelate queste relazioni micorriziche simbiotiche presenti (o meno). Il risultato di questa ricerca sarà una serie di fotografie di queste relazioni che compongono l'ecosistema sotterraneo all'interno della valle Taleggio e una serie di brevi video che condivideranno il mio processo in modo che altri possano imparare a "vedere" queste relazioni sotterranee e documentarle dove si abitare.

Danielle Stevenson è una scienziata ambientale multidisciplinare la cui pratica è incentrata sul ripristino del suolo sano come parte fondamentale dell'azione ambientale. Attualmente dottoranda al 4° anno in Tossicologia ambientale presso il Soil Biogeochemistry Group presso l'Università della California Riverside, Danielle studia le applicazioni dei funghi nella bonifica dei suoli inquinati. È anche una micologa applicata e gestisce DIY Fungi e il progetto Healing City Soils.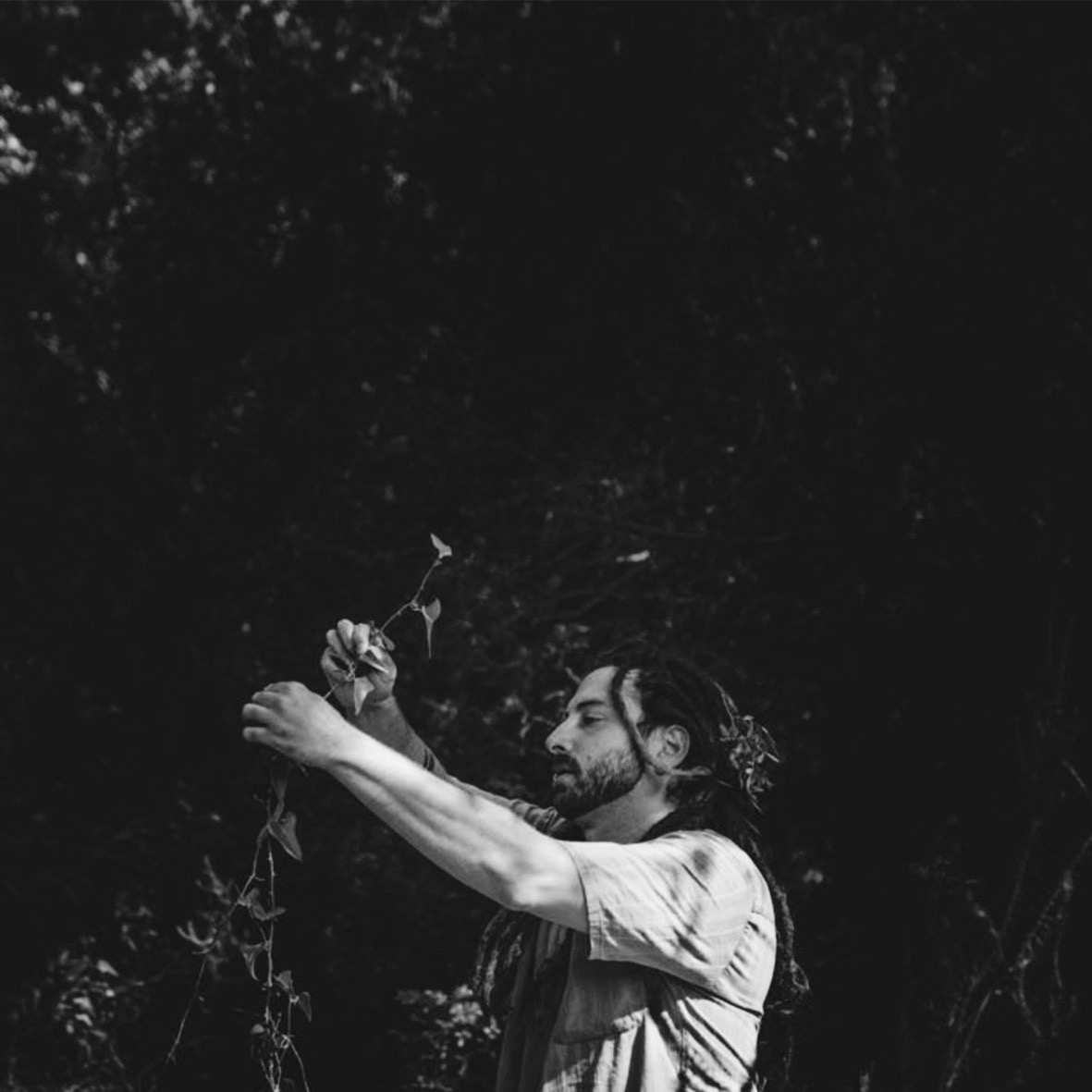 Marco RanieriSpain
EDAPHIC FERMENTATION. A living soil as a living matter

A big portion of our planet life and biodiversity is concentred in the most superficial fraction of the soil. In a pinch of earth, we could have more than a billion microorganisms belonging to about ten thousand distinct species.
EDAPHIC FERMENTATION is a research project that focuses on edaphon, the biota of the soil, and studies its potential to act as yeast. During the residency I carried out artistic experiments using soil samples obtained in different places at varying altitudes and climate conditions in Val Taleggio (woods, pastures, rivers) to ferment flour for baking breads. Some bread was fermented directly in the soil, in pastures at 1700 metres altitude. The process was documented through video and photography, while the bread, or "soil bread" was tasted, transformed into sculptural objects, or devolved into the ground during performative actions.
Marco Ranieri works as an artist, artivist and independent researcher. He focuses his sculptural, performative and community-based artworks on the transformation of the experience of territory into art, in dialogue and mutual becoming with the places we inhabit, by forging alliances with companion species and collaborating agents such as plants, lichen and bacterial communities.
IG: www.instagram.com/_marcoranieri_
Website: www.marcoranieri.org



FERMENTAZIONI EDAFICHE. Suolo vivo come materia viva

Gran parte della biodiversità del nostro pianeta si concentra nello strato più superficiale del suolo, in pochi decimetri di terra, spesso meno. In un solo pizzico di terra possiamo trovare più di un miliardo di microrganismi appartenenti a migliaia di specie diverse.
FERMENTAZIONI EDAFICHE è un progetto di ricerca artistica che ha come soggetto l'edafon, la biota microscopica del suolo. Durante la residenza ho realizzato esperimenti artistici nei quali ho prelevato campioni di suolo a distinte altitudini, orientazioni e condizioni climatiche in diversi luoghi e nicchie ecosistemiche della Val Taleggio (boschi, pascoli e torrenti), e li ho usati in sostituzione del lievito per far fermentare l'impasto del pane. Alcuni pani sono stati fatti lievitare direttamente in piccoli buchi del suolo scavati nei pascoli degli alpeggi. Il processo di ricerca è stato documentato mediante video e fotografia, mentre i pani, o "pani di terra" sono stati assaggiati, trasformati in oggetti scultorici, o restituiti alla terra attraverso azioni performative.

Marco Ranieri, è artista, artivista e ricercatore indipendente. Focalizza la sua pratica artistica sulla trasformazione dell'esperienza del territorio in arte, nel dialogo e il divenire reciproco con i luoghi che abitiamo, stringendo alleanze con "specie compagne" e agenti collaboratori quali insetti, uccelli, piante, enzimi, licheni e comunità batteriche del suolo.

Nora Sweeney
Los Angeles, USA

Portraits of Interconnection in Val Taleggio

Through daily explorations of the valley, I observed and documented the myriad of ways in which species are interconnected - swifts making their nests in church towers, plants and insects living inside stone walls, cows going to pasture, a farmer collecting eggs, etc. I sought to create a multimedia field guide, comprised of photographs, drawings, paintings, sound recordings, and 16mm film footage, that illuminates these interconnections between species, rather than focusing on identifying individual species.

Nora Sweeney (born in Cincinnati, 1985, lives and works in Los Angeles) is a documentary filmmaker, artist, and professor whose work focuses on cultural traditions, labor, communities, and public spaces.
Site: https://norasweeney.com/




Ritratti di Interconnessione in Val Taleggio

Attraverso le mie esplorazioni quotidiane della valle, ho osservato e documentato la miriade di modi in cui le distinte specie sono interconnesse tra loro: rondoni che nidificano nei campanili delle chiese, piante e insetti che vivono all'interno di muri di pietra, mucche che vanno al pascolo, un contadino che raccoglie le uova, ecc. Ho provato a creare un manuale da campo multimediale, composto da fotografie, disegni, dipinti, registrazioni audio e filmati in 16 mm, che metta in risalto queste interconnessioni tra le specie, anzichè concentrarsi sull'identificazione delle singole specie.

Nora Sweeney, (nati a Cincinnati, 1985, vive e lavora a Los Angeles) è un documentarista, artista e professore il cui lavoro si concentra su tradizioni culturali, lavoro, comunità e spazi pubblici.

Anne LaForti
USA

Soil as Pattern Language: Emulating Healthy Soil Communities
This project explores relationships in healthy soil communities through photography and mixed media. Via meta-scale observation of ecosystems, microscope-to-landscape, emulation templates will be drafted to facilitate a future community design charrette.

Anne LaForti learns nature's patterns to emulate functional strategies and help heal the soils of California.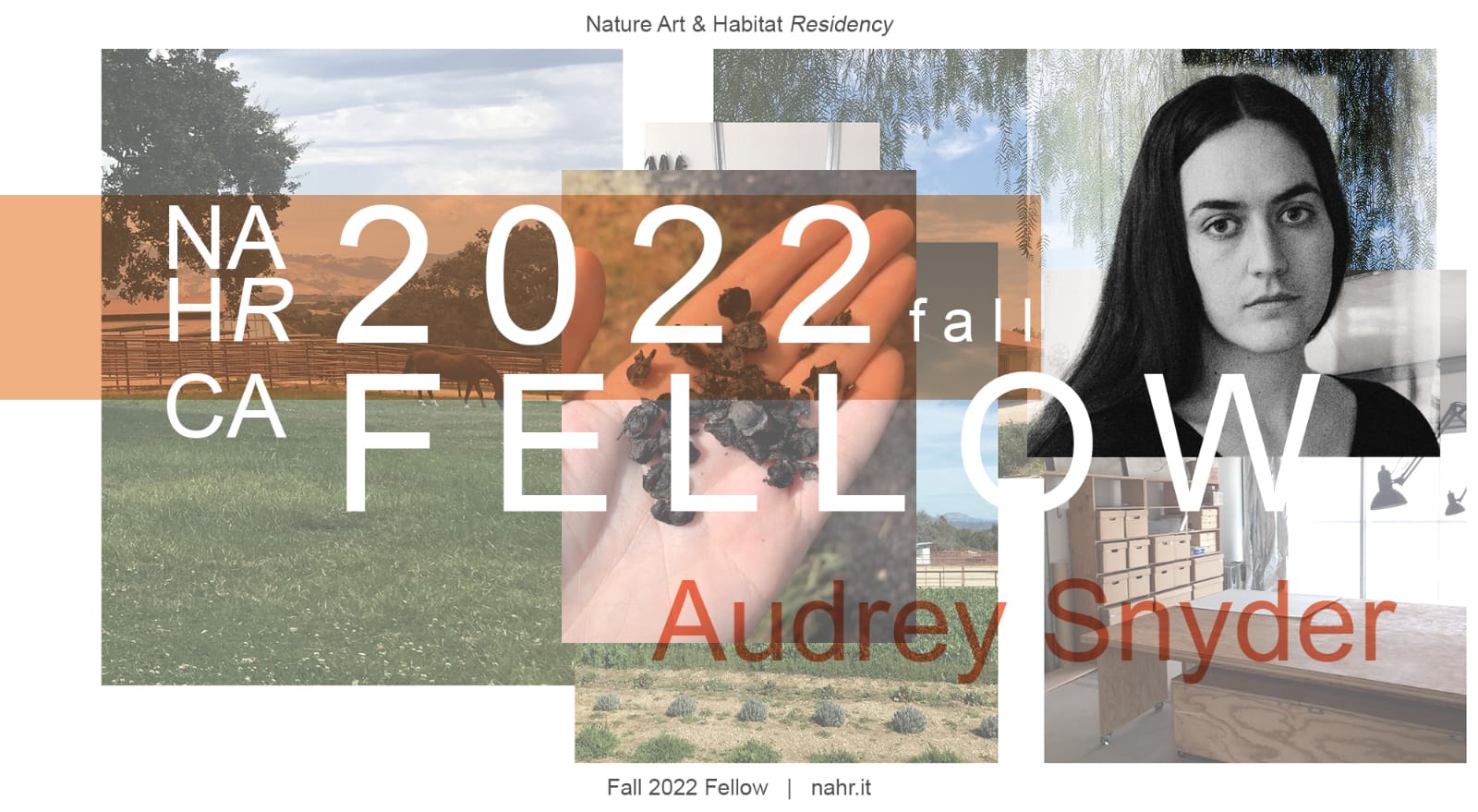 2022 Alt Residents
Anju Marie Kasturiraj, Artist / London, UK - PROJECT: Le Tre Madri
Sophia Aitken, Urban Planner & Artist / Florida,USA
Adriana Gallo, Artist / New York, USA
Clare Harmon, Poet & Musician / Minneapolis, USA
Petra Regent, Artist / Bristol, UK
Roxanne Korda, Opera Singer / Birmingham, UK
Lily Garget, Artist / Glasgow, UK
Angus Rushin, Artist / Glasgow, UK
Julia Tröscher, Artist / Austria
Danica Liongson, Landscape Architect / USA
Ruta Putramentaite, Artist / Lithuania
Denisa Langrovaa, Artist / Lithuania
Annalisa Zegna, Artist / Italy
Ñemikafe, Artist / Chile, Germany
Oh-Kyung Jang, South Korea

Last summer I was in Italy doing a residency with @nahr.it which was also my first residency ever. The memories of this stay I keep like a sacred treasure because it was a magical n very special time for me. Julia Tröscher, Artist / Austria


2022 Visitors

NAH_Worskhop June
Patrizio Musitelli, Agronomist / Valle Brembana (BG), Italy
Alessandro Longhi, PhD, Italy
Elena Eustacchio, Naturalist, Flora Alpina Bergamasca / Bergamo, Italy
Simone Zenoni, President AIAPP Lombardia, Italy
Giuliana Gatti, Landscape architect, Vicepresident AIAPP Lombardia, Italy
Gabriele Rinaldi, Director, Orto Botanico di Bergamo / Bergamo, Italy
Enrico Bassi, Naturalist and Ornithologist / Parco Nazionale dello Stelvio, Bormio, Italy
Alessandra Gattei, Urbanist / Venice, Italy
Endri Orlandin, Urban Planner / Venice, Italy
Gabi Scardi, NAHR President, Art Curator / Milano, Italy
Emilio Fantin, Artist
Juan Sandoval, Artist / Bologna, Italy
Chiara Gamba, Ecomuseo Val Taleggio / Taleggio (BG), Italy

Abitanza Participants June
Anna Villa, Monza, Italy
Mattia Cavalleri, Milano, Italy
Asia Asperti, Bergamo, Italy
Emma Dotti, Milano, Italy
Francesco Antonelli, Valtellina, Italy
Isabel Kuh, Los Angeles (CA), USA
Roxanne Korda, Birmingham, UK