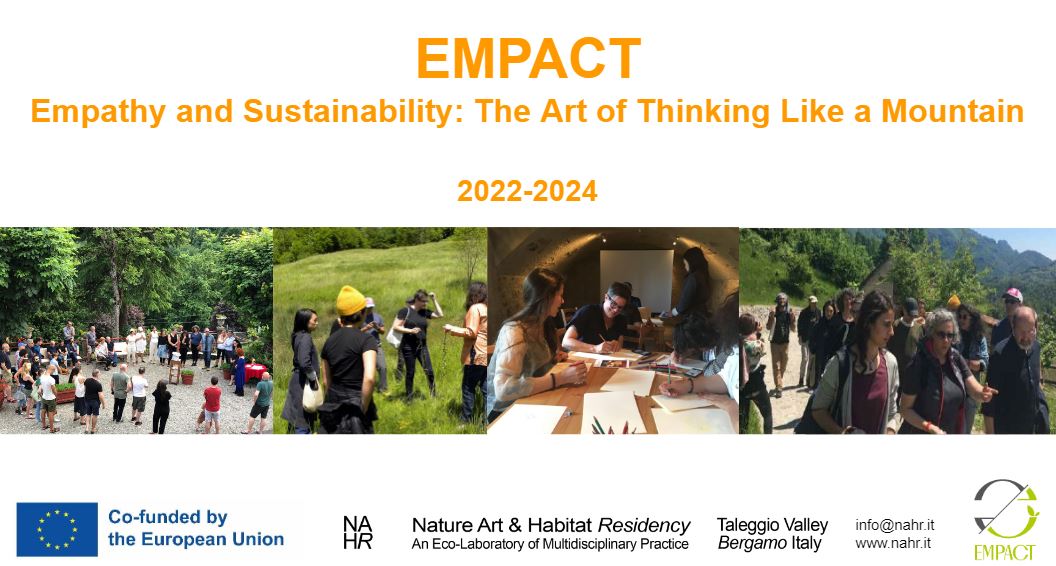 EMPATHY & SUSTAINABILITY
THE ART OF THINKING LIKE A MOUNTAIN

Workshop June 2-3-4. 2023 - Circular Economy and Air flows

The seminar is organized by NAHR and EMPACT and will be held in English language. The seminar is free of charge.
Certificate of Participation on behalf of NAHR will be provided to those who attend the 3 days seminar.

Program Calendar and Details here

Registration Form: https://forms.gle/GmxLLTBou6gfosBw5


Artistic Residencies Program (2023) Call CLOSED
About
Four partner institutions of the European project EMPACT invite artists to apply for short-term artist-in-residence programmes in: Athens (Greece), Madrid (Spain), Sofia (Bulgaria), Taleggio Valley (Italy). Selected participants are invited to develop works relating to the themes of the project
EMPACT - Empathy and Sustainability: The Art of Thinking Like a Mountain
and explore how these broad topics can be interconnected. They will do so by relating to particularities of the local character and context of each residency and host institution. Artists will produce work in various media and artistic fields, depending on the mandate of each inviting institution (e.g., visual arts, performing arts, creative writing, philosophy). New works will be presented to the public at the end of each residency and later a selection of the artworks will be jointly presented in an exhibition at Vorres Museum in Athens. The residencies will take place in the summer and autumn of 2023.
NAHR
July 4-15 2023. Five
fellows will visit high and low pastures, walk across the mountains and landscapes (natural and built), attend and participate to dedicated lectures by specialists and have the opportunity for site-specific investigations in the area and topics related to EMPACT and to NAHR 2023 Topic
AIR: Commons, Chaotic Fluid, Inspiration.
From July 8-9 the EMPACT awarded fellows will attend an EMPACT seminar where they will have the opportunity will to share their ongoing work and experiences with the wider EMPACT team across Europe.
The EMPACT residency will cover:
Travel (up to 800 EUR), the use of trains is encouraged, when possible, to limit emissions, flights are
economy class only – receipts to be provided;
Accommodation - arranged by NAHR
Subsistence (40 EUR/day)

For all other details on NAHR Accommodation facilities etc, see all NAHR web site pages.

---------------------------------------------------------------------------------
GENERAL INFORMATION ABOUT EMPACT:


"EMPACT – Empathy and Sustainability: The Art of Thinking Like a Mountain" is a pioneering 24-month project, co-funded by the Creative Europe program of the European Union, starting on the 1st of September 2022 and estimated to be completed on the 31st of August 2024.

The project adopts an innovative approach in advocating for the climate crisis based on the idea that the concept of empathy can shed new light on how we understand and embody sustainability in the arts. The project lies on two interconnected pillars:

(i) the facilitation of artists to produce, through sustainable practices, art that fosters an empathic stance towards non-human beings and nature, and thus effectively incorporate the concept of sustainability in their artistic production;

(ii) the necessity for artists and cultural workers to become themselves empathic and resilient individuals in order to deal with the post-pandemic social and economic crisis.
EMPACT'S OBJECTIVES
EMPACT project aims to address the following needs:

To bring together artists, cultural institutions and key thinkers in creative sustainability, philosophy and social sciences to discuss and explore ways of intensifying the powers of art in tackling the key pillars of sustainability.
To introduce, discuss and clarify the meaning of "empathy" in arts, which has important implications for artistic research, training and practice.
To support male and female and non binary, in all their diversity, artists, and cultural professionals to engage with mainstream research from philosophy, social sciences and sustainability studies on the role of empathy and perspective-taking in advocating for environmental issues.
To offer artists training courses that will allow them to transfigure moral emotions (empathy, compassion, perspective-taking imagination) to new skills related to sustainable creation.
To inspire the creation of innovative projects that address the empathy-sustainability relationship through arts and raise awareness on the challenges that climate change poses to environmental, physical and emotional health.
To engage new audiences and establish an innovative, participatory approach to contemporary visual and performative arts.
To support European artistic co-operation and mobility of artists and of artworks that redefine sustainability within an empathic and creative context.
THE CONSORTIUM
EMPACT consortium is composed of (9) nine partners from (7) seven European countries with diversified experiences and expertise necessary to achieve the objectives and activities of the project:
Cyprus University of Technology
(Cyprus),
Wisefour Innovation and Development Organisation Ltd
(Cyprus),
Fondazione Lamberto Puggelli
(Italy),
Nature, Art & Habitat Residency (NAHR) ECO-Laboratory of Multidisciplinary Practice
(Italy),
Espacio Rojo
(Spain),
Vorres Museum
(Greece),
ID22: Institute for Creative Sustainability
(Germany),
National Academy for Theatre and Film Arts (NATFA) "Kr. Sarafov"
(Bulgaria) and
Umetnostna Galerija Maribor
(Slovenia).
PROJECT'S MATERIAL
EMPACT Press Release
#1
Start date 01-09-2022 – End date 31-08-2024. The project is co-funded by the Creative Europe program of the European Union. Project Number: 101055903 — EMPACT — CREA-CULT-2021-COOP-2

Funded by the European Union. Views and opinions expressed are however those of the author(s) only and do not necessarily reflect those of the European Union or European Education and Culture Executive Agency (EACEA). Neither the European Union nor EACEA can be held responsible for them.